The natural world is a realm of diversity and adaptation, where every creature has its own unique story to tell through its teeth. From the gentle herbivores that graze on the meadows to the stealthy predators that stalk their prey, teeth are essential tools for survival and a key to understanding the lives of wild animals.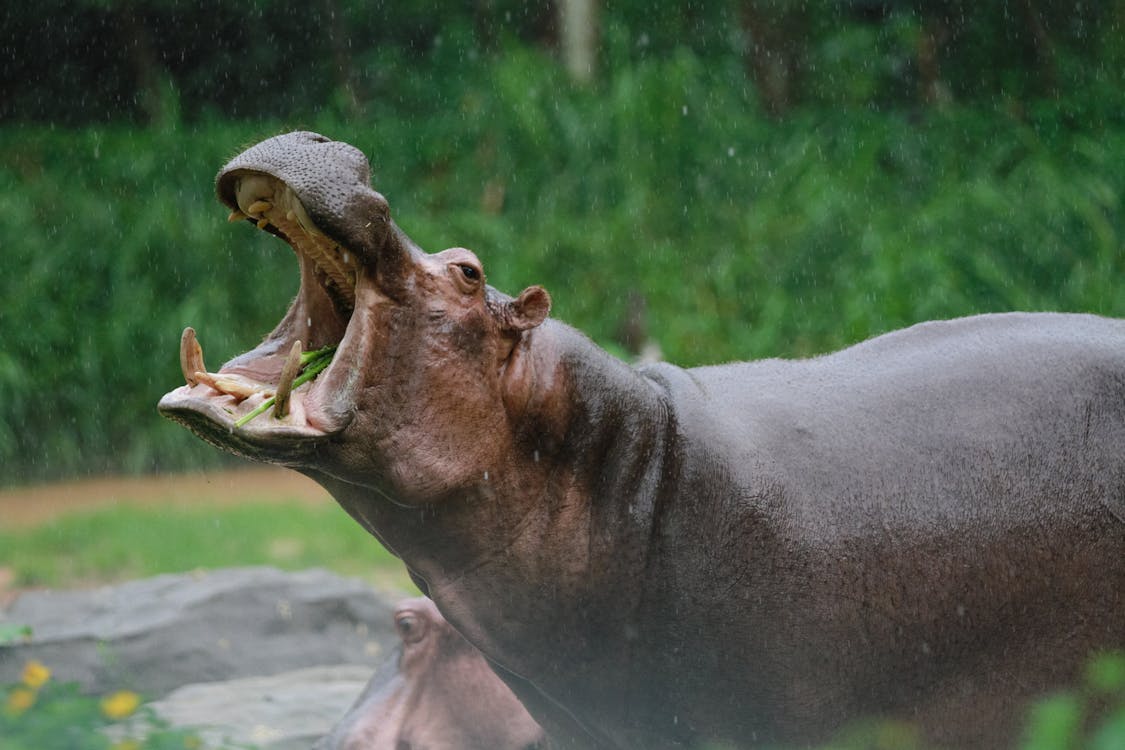 The Herbivore's Arsenal
Deer: Let's begin with the graceful deer, often spotted in tranquil forests and open meadows. The dental arsenal of a deer is tailored for a vegetarian lifestyle. Their molars and premolars are flat, broad, and equipped with ridges, perfectly designed for grinding fibrous plants. These teeth are the workhorses that help deer extract nutrients from leaves, shrubs, and woody vegetation. By examining a deer's dental structure, scientists gain insights into its dietary preferences and how it sustains itself in its natural habitat.
Hippopotamus: Another remarkable herbivore that demands attention is the hippopotamus, a creature that often dwells in the rivers and lakes of Africa. Hippos possess massive teeth, including large incisors and formidable canines. Despite their fearsome appearance, hippos are herbivores, and these impressive teeth are used for battling over territory and mates. Their molars, like those of deer, are well-suited for grinding tough vegetation, and the dental structure provides insights into their vegetarian diet and their adaptation to life in aquatic environments.
Horse: Horses, whether domesticated or wild, are renowned for their powerful teeth. Their large, strong incisors enable them to graze on a diet of grasses and grains with ease. Additionally, horses possess impressive grinding molars that keep their teeth continuously growing to compensate for the wear and tear of constant chewing.
Predators on the Prowl
Lion: As we shift our focus from herbivores to predators, the lion emerges as a regal example. Lions are apex predators with a fearsome set of teeth that have evolved for hunting. Their sharp, pointed canine teeth and slicing carnassial teeth are formidable tools for seizing and tearing the flesh of their prey. Lions' teeth are not only a symbol of their dominance on the savannah but also essential for their survival in a competitive ecosystem.
Shark: In the aquatic realm, sharks are perhaps the most iconic predators. Their multiple rows of razor-sharp teeth are a testament to millions of years of evolution. Sharks continually shed and replace their teeth, ensuring that they always have a menacing set of cutting-edge weapons for hunting in the deep blue.
Teeth as Windows to Lives
The diversity of teeth in the animal kingdom is a testament to nature's creativity and adaptability. Beyond their functional roles, teeth serve as indicators of an animal's place in the ecological web. By examining an animal's teeth, scientists can infer its diet, hunting strategy, and even its role in maintaining ecosystem balance.
Conservation and Dental Clues
Understanding the dental mysteries of both herbivores and predators plays a crucial role in conservation efforts. Teeth reveal insights into dietary habits, which, in turn, inform wildlife management strategies. By monitoring the dental health of species in the wild, conservationists gain valuable data about the overall health of ecosystems and can take action to protect vulnerable populations.
In conclusion, the jaws of the wild tell stories of survival, adaptation, and coexistence in the natural world. From the grinding molars of deer to the fearsome teeth of lions and sharks, each set of teeth is a testament to the remarkable diversity and complexity of life on Earth. By delving into the dental tales of these creatures, we gain a deeper appreciation for the intricate relationships that shape our planet's ecosystems.